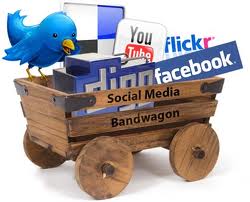 I saw my friends Mary's band Mass Choir and wanted to see what their social media plan was.  Aside from being really surprised by how far MySpace has come in recent years (they have re focused on their original purpose of being a place for bands to create personal websites that look good with ease) they had all the basics like a Twitter account and a Facebook page.  I wanted to see what other sorts of Social Media opportunities would be out there for a budding and talented band, and here are some of the sites I found.
Last.fm – you might have heard of this one, they have a managers account (http://www.last.fm/uploadmusic?accountType=artist#) where you can upload music and video's from your band and get your music out there, kind of like free radio. Probably some danger of having your songs ripped off of last.fm, but that's always a danger, and if people are downloading your music that's never a bad thing. Good exposure
iLike.com – this is a really good tool that allows you to centrally manage your Facebook, MySpace and whatever other accounts you have (though strangely not Twitter …) from one place and update show postings and stuff like that. If also tracks the popularity of each page and you can open up fan sites on other things like Bebo that are popular in other countries but not as much in Canada
ourstage.com – this is a really cool website that allows you to post songs and you face off head to head against other artists every week and people vote on their favorite. Not only is there some great exposure, but there are grand prizes for the highest voted each week. Thought this was a really cool concept.
championsound.com – this is a tool that you can use to track your events as well. They really sell their mass e-mailing feature and you can add people to your mailing list remotely, or you could collect e-mails at your gigs so you can keep people up to date with whats going on. What's interesting with this is that it recognized that not everyone is on Twitter or Facebook, but almost everyone has an e-mail, so you can reach out to people who are lazy and won't search your MySpace, Facebook or Twitter.
If anyone has any other recommendations of things that have worked, please don't hesitate to post them!  It's interesting to look at different groups can approach social media.  Also, check out Mass Choir at their Facebook or MySpace page and take a minute to listen to their stuff.  Aside from promoting a friend, they really are an amazing band and I recommend taking a minute to listen to some of their stuff.